As part of its ongoing support of Yemen as the humanitarian crisis in the country continues to take its toll, the Munib and Angela Masri Foundation has rebuilt a computer laboratory at Al Khotwa Al Arouk school in Taiz.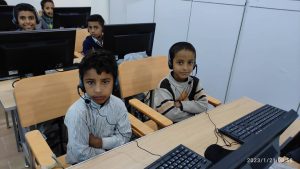 The Al Khotwa Al Arouk school was the first school in Yemen to start teaching computer classes over thirty years ago but had to stop seven years ago when the school was severely damaged during the war. The Masri Foundation has donated forty computers and furniture so that computing lessons can restart at the school. The school, which educates 700 boys and girls from first to twelfth grade from five local villages, also offers a range of technical courses.
Last year, as part of its commitment to improving education and health services in the Arab world, the Masri Foundation refurbished a girls' school in Sana'a, enabling 1800 girls to continue their education.
The Masri Foundation is an independent, non-profit organisation established in 1970, which works in many fields of development, including education, health, scientific research, culture, and economic empowerment, in partnership with various institutions across the Middle East.